01.11 2006

0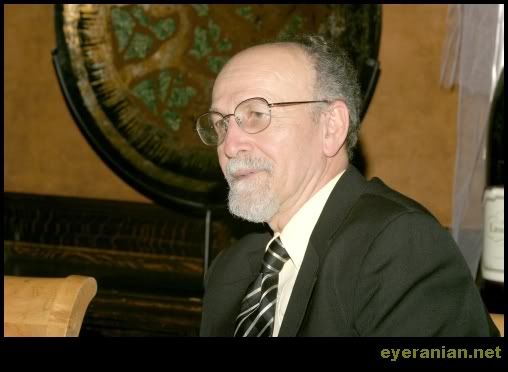 I don't know how many of you remember Radio Darya but it was always a big deal in our family, particularly since we saw my own uncle as the man behind it. I recently had the opportunity to "interview" him on that topic and the result was published in iranian.com.
Here's my introduction:
For most Tehrani children of my generation, the trip "up north" to the shores of Caspian sea was always magical. Leaving the smoggy and crowded streets of the capital, up one of the three enchanting and winding two-lane roads up through the Alborz mountains just to emerge from the other side into a sea of lush green forests, roadside waterfalls and eventually the scent of salty water in the fresh air of the coastline is forever etched into many of our memories. It is no wonder that even in our today's conversations, we speak of "shomal" trips with such affection, even if our last trip there established that the "sea" may have never been as beautiful as we had imagined it or at least years of pouring raw untreated sewage into it from all shores, has killed much of its magic.
For our family, the annual pilgrimage north had an added dimension. My uncle had been picked to launch the brand-new and seasonal Radio Darya (Sea Radio) station and their family, including two cousins around my age, would spend most of their summers up there. The trip to Caspian was an opportunity for us to spend time with them and also spy on the new undertaking. From a group of tents to eventually a few actual buildings, Radio Darya quickly became a huge hit and yet another reason to endure the snaking drive up and down the mountains and since the less robust car radios were only able to pick up the station as you got over the top, the little station acted as the soundtrack for at least half the trip.
Radio Darya was different from other regular state-run stations. It was hip and new, with a certain youth-oriented outlook reflected in its personalities and programming. Music was predominant and they played some of the younger less-established artists who still received no air time on the other stuffier stations and would also occasionally include some trendy world music, in a language or two that not many understood.
The highlight of my Radio Darya memories is from when we were taking the trip in a new car we had all liked and been particularly proud of. Without our knowledge, my uncle had asked the highway police to alert them when our car plate number made it through the famous one-way Kandovan tunnel. There were two small sub-stations on both sides of this old, narrow and very long tunnel, who scrutinized all cars going through, to make sure the often stifling air inside would not harm the travelers who may face car problems or other emergencies within.
On this day and as soon as we emerged from the other end, the announcer cut through the song being played to welcome the white Peugeot with XXX plate number to Province of Mazandaran. From that day on, we felt particularly welcomed every time we visited the Caspian shores.
Now, about 30 years later and perhaps in hope of rekindling some of those fond memories for myself and others with similar ones, I interview my uncle to get his side of the story and a more behind-the-scene look at our much-loved Radio Darya.
Read the rest here.